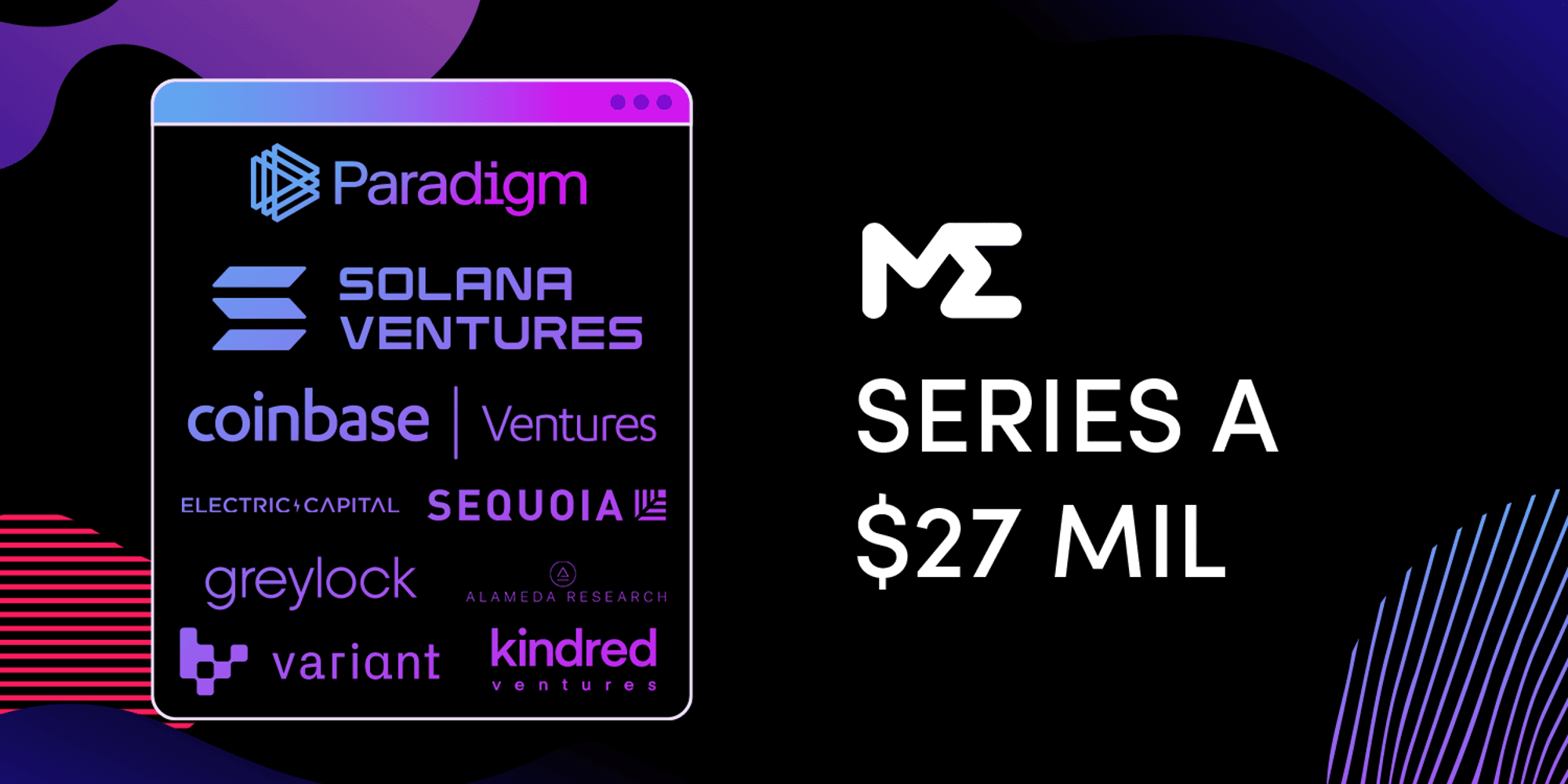 Magic Eden represents a sense of limitless possibility. When Magic Eden's cofounders, Jack, Sidney, Zhuoxun and Zhuojie, met in San Francisco, they never anticipated the heights that Magic Eden would reach (at least, not in the span of 6 months). Our belief that NFTs are the new frontier of art and culture led us to become the biggest NFT marketplace on Solana, growing from 0 to $1B in secondary volume traded in less than 6 months.
Initially, we strived to give users a better experience than what was offered at that time, shipping out improved versions of existing features but that was quickly followed by us pioneering throughout our journey. We are the first marketplace to implement bidding (including escrowless bidding), rarity index, and a dedicated minting platform that automatically connects to our secondary marketplace. 
Since then, we've been experimenting, innovating and building the future of NFTs alongside our community.
Series A Funding Round
On Monday, we closed a $27 million Series A funding round led by Paradigm with participation from Sequoia Capital, Electric Capital, Greylock, Kindred Capital VC, Variant and Solana Ventures. This is a massive milestone for us, our platform and our community!
"Magic Eden has earned its place as the leading NFT marketplace on Solana because of their devotion to building a simple, intuitive user experience." — Arjun Balaji (Paradigm) 
Key achievements:
Visitors: 10,000,000+ unique monthly visitors
Collections: 4,000+ collections listed. We offer creators the greatest liquidity, holding over 90% market share for secondary trading volume on Solana.
People: Scaled from 4 co-founders to 60 MEgens around the globe.
Games: We have over 90% total market share for NFT games on secondary market based on data from 750+ games.
Partnerships: We've worked with leading Gen Z sport platform Overtime, whitelabelled Raydium's NFT marketplaces and partner with leading gaming company Faraway. 
What's next?
The new funding round helps us pursue two main goals: growing our team with top talent and pioneering our product with:
Core secondary marketplace: To be an industry leader with cutting edge features and the best user experience, including doubling down on a mobile-first experience.
Our winning marketplace is not just a place to transact; it will contain social, community-driven elements, and feel like a place to hang out. It is the home to the next generation of digital creators on Solana.
We're building immersive experiences based on developments within the NFT space. And, we have fun while we're at it. (eg, we threw a gaming tournament to kick off Eden Games where we awarded people based on how many times they killed one of our cofounders in the game)
Primary issuance: Launchpad is our exclusive minting tool. We're growing Launchpad to be the preferred minting and NFT launch solution in the Solana ecosystem, a one-stop shop for creators with technical setup, outbound marketing support, and automatic listing on our secondary marketplace.
Launch first NFT mobile application that allows users to browse, mint and trade NFTs on-the-go.
Creator tools: Creators on Solana will come to us for a myriad of tools, such as analytics, community engagement and launch management. 
Invest in partnerships
Innovate new vertical-specific experiences for gaming and other categories: We introduced Eden Games, to develop gaming discovery, showcase new playable games and allow gamers to trade in a way that is deeply compelling and immersive.
---
🖥 Calling all Devs!
We are hosting a Hackathon that will kick off during Solana NYC Hacker House. Devs will have access to our API to build unique tools across analytics, trading tools and Discord/Telegram integrations. Judged by the Magic Eden team. 
What's in it for you? ~ 90SOL x 3 in prizes and a hell of a ride to push the boundaries of your creativity, technical depth and skills!
Full details here. For further support, click here.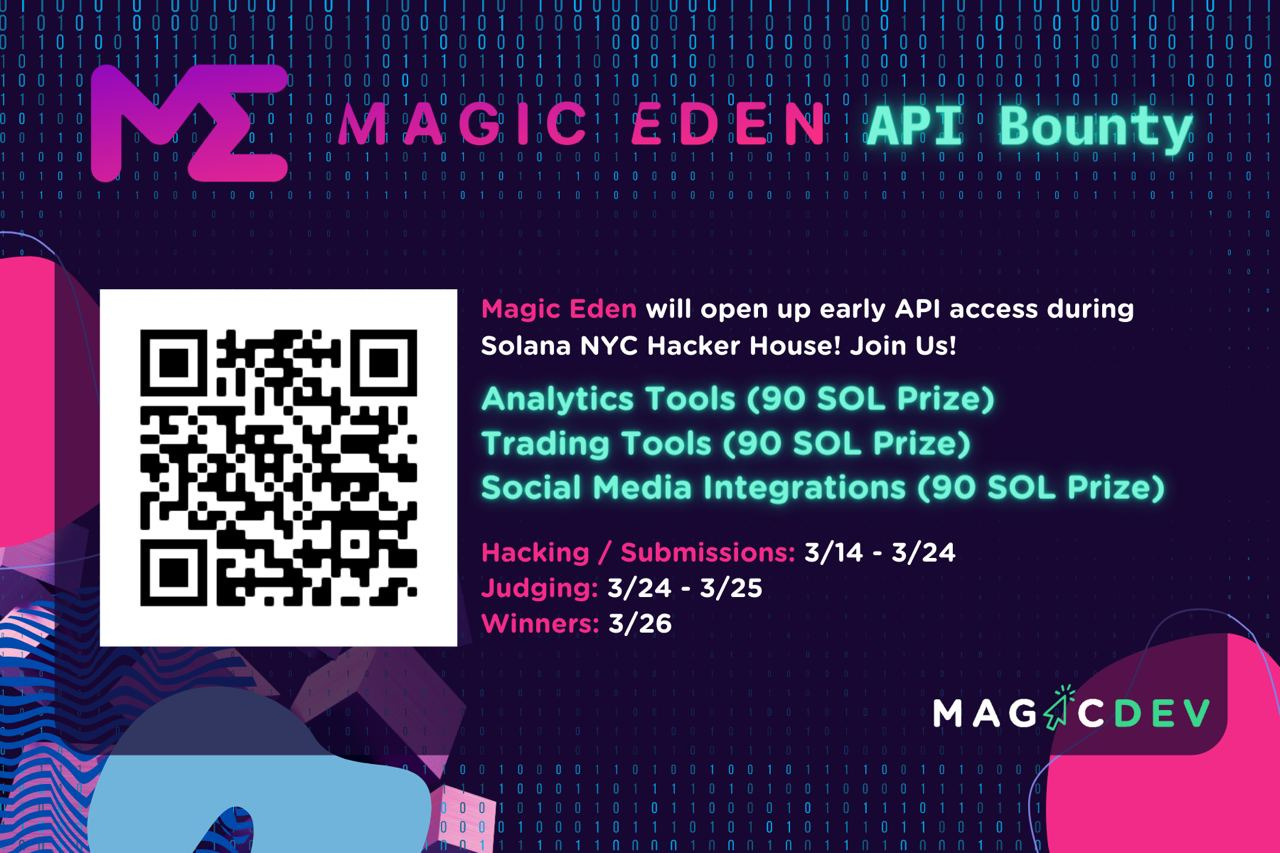 ---
📣 Introducing: Email Notifications
---
🎮 Eden Games is now LIVE!
Visit Eden Games here.
---
📰 Hot off the Press
The Block: Solana-based NFT marketplace Magic Eden raises $27 million
Yahoo Finance: Video Interview with CEO Jack Lu
Bloomberg: Sequoia Capital Sees a Weakness in OpenSea's NFT Dominance
CoinDesk: Solana-Based NFT Marketplace Magic Eden Raises $27M Series A
Decrypt: Solana NFT Marketplace Magic Eden Raises Paradigm-Led $27M Series A
Blockworks: NFT Marketplace Magic Eden Secures $27M Series A
---
🪄 Congrats, this week's top performing collections on ME! (3/9-15)