It's time to announce the winners of the Magic Eden Creator Monetization Hackathon! 
In case you missed it, on October 28th, Magic Eden launched our Creator Monetization Hackathon. Our hackathon invited developers to experiment and innovate with solutions enabling creators in the Solana NFT space to earn royalties and identify alternative monetization models. We dedicated $270K to a prize pool for the hackathon and are excited to announce the winners today.
We want to thank the Solana ecosystem partners and Solana developers who helped us put this hackathon together. Over the course of the hackathon, there were 9 live workshops from Quicknode, Galaxe, Thirdweb, Darkblock, Raindrops, SolanaFM, Phase Labs, Helius, Horizon Labs, and a giveaway from Alchemy. The workshops helped developers utilize the tools presented and inspired innovation in their builds. Check out recordings for all the workshops here. We also want to thank the group of Solana developers, creators, and builders who took time to judge and review all the submissions this past week-  @aeyakovenko, @evesinfinity, @draxxts, @flawmz, @statikdev, @voshy, @libertysquareHQ, @baalazamon, @0xMert_, and @immature69.
Over 150 projects were submitted from over 500 registrations during our six-week hackathon. From all these submissions, our judges have selected 15 projects split up within 4 Hackathon tracks to award today. You can browse through all of the project submissions by track on our Gitcoin page here.
We are now pleased to announce the results of the Magic Eden Creator Monetization. Let's give a round of applause for our winners…
Future of Royalties Track - $155K Total in Prizes
For the Future of Royalties track, we challenged participants to reimagine how royalties should work. Ideas can range from royalty incentivization to more complex models such as dynamic royalties. We want to empower developers with the platform and tools to come up with insightful ways to manage and motivate the payment of royalties.
First place, $80,000: Regalia
Regalia is a fully functioning royalty-tracking and fulfillment tool linked to the Regalia Oracle, which provides developers with a framework through which they can easily build their own royalty tracking tools and serves as a source of truth for royalty fulfillment.
The Regalia Portal is an implementation of Regalia Oracle and is a full-fledged royalty tracking and fulfillment app for project creators and community members alike, ready for use today with plans on next steps of development outlined.
Their tool suite provides developers & creators with a boilerplate & API framework to use as a springboard, upon which they can very easily develop their own set of royalty management tools, all while being sure that their tools will be able to communicate with others platforms that are built on top of or connect to Regalia.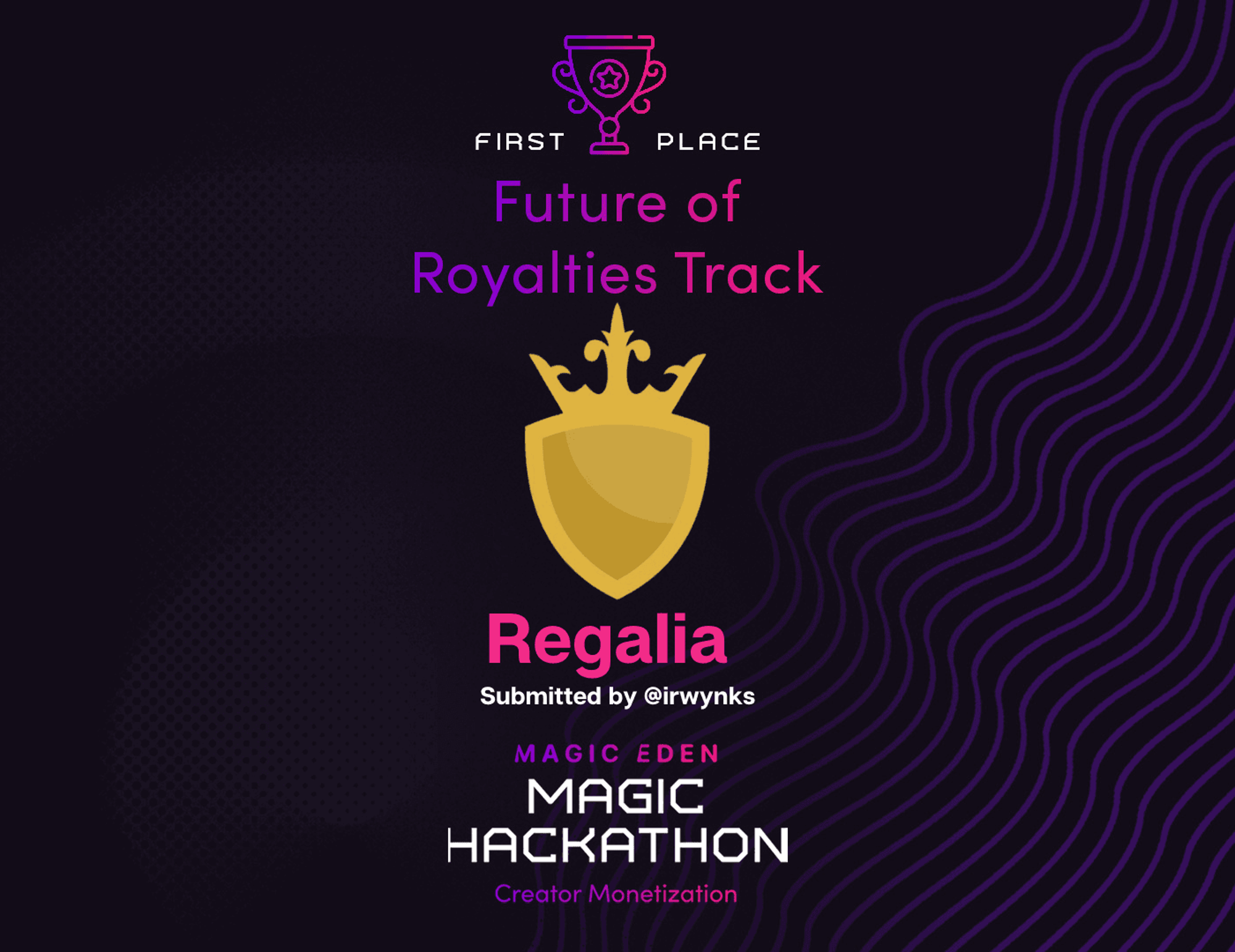 Second Place, $30,000: CPL Dashboard 
Third Place, $20,000: Decentralised Social
Fourth Place, $15,000: ToBeContinued
Fifth Place, $10,000: Karmabot
We appreciate all the Future of Royalties Track submissions; specific submissions to this track can be found here.
Ancillary Revenue Opportunities Track - $75K Total in Prizes
Creators should be equipped with monetization options outside of royalties alone. This track touched upon helping NFT creators to develop those additional sources of income and monetization opportunities, outside of royalties.
First place, $30,000: AuroraLite
AuroraLite is a subscription based revenue model for Solana projects. Projects can offer their community a subscription rank that is purchasable inside their discord to support the project by paying a monthly fee (SOL).
If users decide to buy this subscription they will be granted a specific role(subscription role) inside the discord that the project selected before which offers for example exclusive content/access. Using AuroraLITE projects can set up a unique subscription experience for their users and can receive a monthly revenue stream.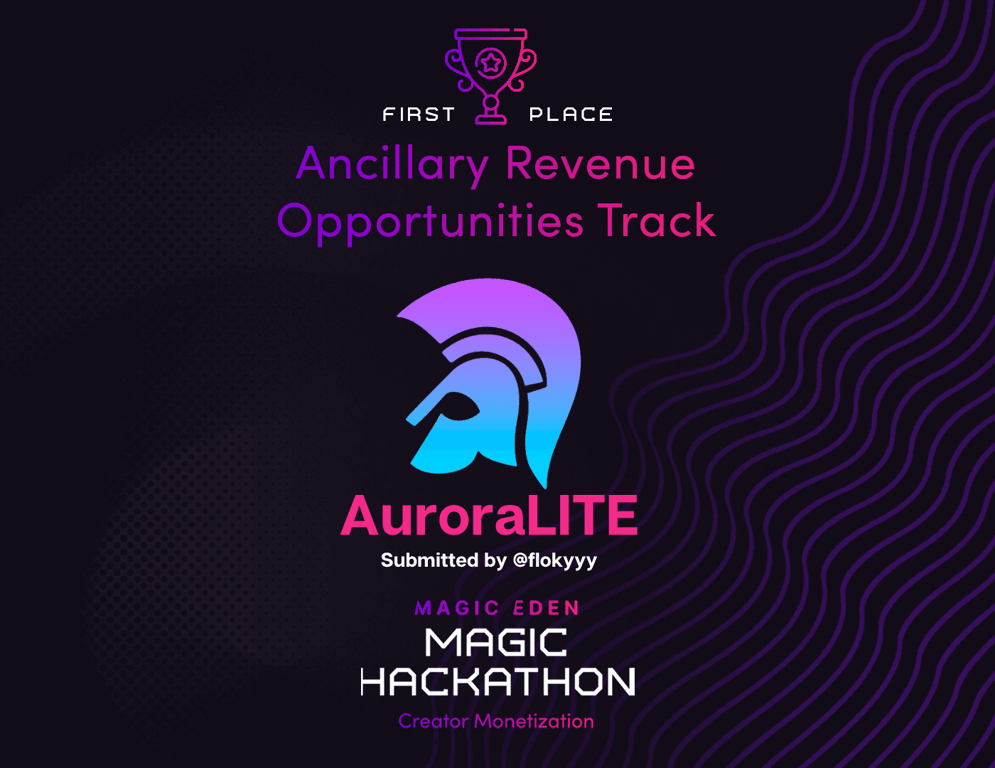 Second place, $20,000:  Web3 Music Vault
Third place, $15,000: Creator Rent
Fourth place, $10,000: NFT Fungible Printer
We appreciate all the Ancillary Revenue Opportunities Track submissions; specific submissions to this track can be found here.
Bonus Bounty - Royalty Tracking API Track - $20K Total in Prizes
Our partners at Coral Cube released a free royalty tracking API during the Hackathon, and we feel this can be utilized for projects to create royalty tracking developments. Additionally, to give developers more options, our friends at Helius offer an API which achieves the same result.
This bonus track is awarded to submissions that successfully implement the Coral Cube or  Helius API for royalty payment tracking purposes.
First place, $15,000: CPL Dashboard
CPL utilized the Helius API to aggregate royalty payments across all marketplaces in real time. Not only does this populate the data via Helius into a clean and user friendly data dashboard, but creators can take an actionable next step with the data collected, such as influencing staking ability.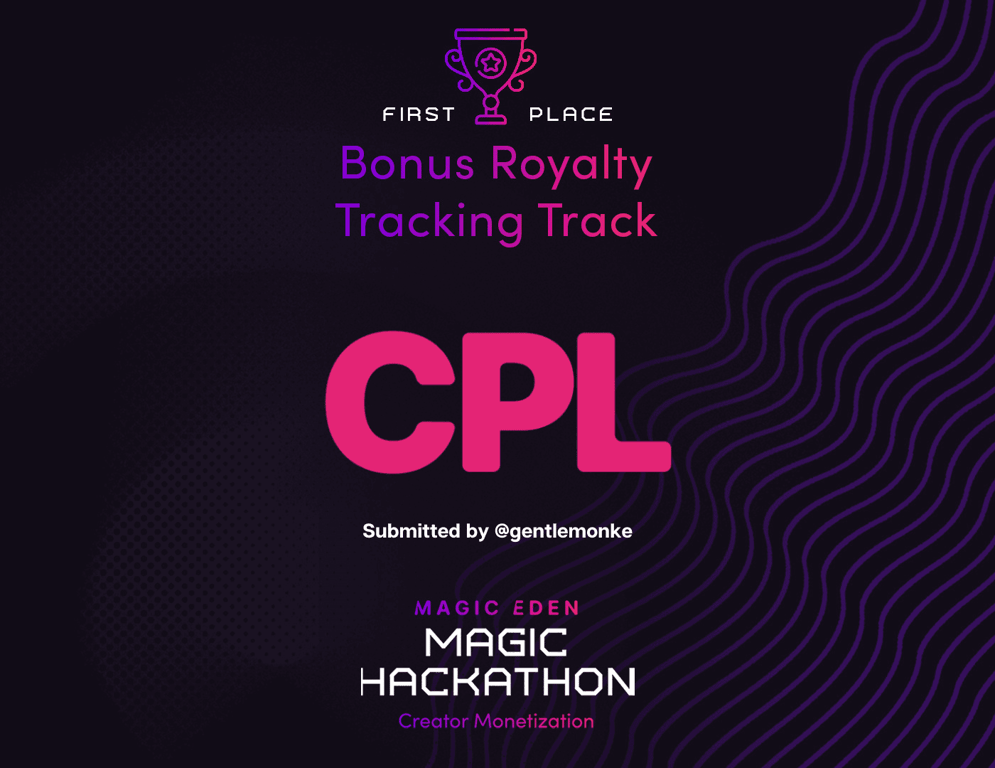 Second Place, $5,000: Spire
Spire, powered by the Helius API for royalty tracking, is a Solana-focused on-chain data platform that aims to provide in-depth data and insights to add value to the Solana ecosystem. Focusing on analyses we think are interesting, we provide a place where users and developers can regularly check for Solana ecosystem information, as well as deeper dives into specific areas.
We appreciate all the Royalty API track submissions here; specific submissions to this track can be found here.
Special - Judges Awards - $20K Total in Prizes
Including solutions that may not fall neatly in the categories, other solutions the judges would like to commemorate or see developed further, we created space for honorable mentions.
The below projects earned special awards prizes!
Judges' Award, $5,000: Destruct
Judges' Award, $5,000: Helm
Judges' Award, $5,000: HelioFi
Judges' Award, $5,000: Pity Button
We appreciate all the submissions and hope this track helps to recognize honorable mentions!
Thank you to all who spectated, built, submitted, attended, presented & judged! We hope this is only the beginning of experimentation and continued development of solutions for royalties and creator monetization. 
Congratulations to the winners & everyone involved!